Upland Dogs is a great resource if you've decided to train your own dog but aren't an expert, especially if you're experiencing problems or roadblocks. I purchased a bird dog and used all the advice I could obtain from books or web sites to help me through the process, but my dog still needed help.

I contacted Upland Dogs and was able to use Doug's expertise in the field to help me with training tips. After a couple  of visits I became a better trainer and my dog is on his way to doing the things he should be doing (me too).

There's no substitute for experience and expertise -- well worth every penny.

Ben C. Thompson

Enumclaw, WA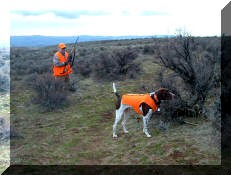 WANT TO ADD A TESTIMONIAL?

        SIGN IN & ADD YOUR INFORMATION